I am a translator and subtitler (French-German-English). My favorite jobs require a creative mind. That's why I gladly accept to translate fiction, films, advertizement, books dealing with art, art history etc… if both parties can agree on a rate. Let's not forget, a creative translation requires skills that can't be measured by a CAT-tool or only by a word-count program and it deserves a rate that allows the translator to be creative. It's not just about accuracy. It's about submerging yourself in another culture and offering a text that immediately talks to the reader or viewer.
Another recent job was the translation of a German comic into French : "Die Erbse des Zorns" :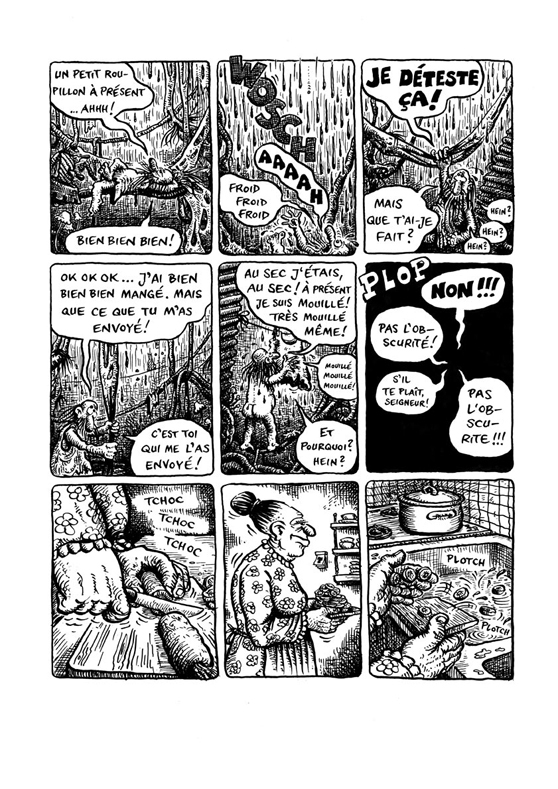 The author, Ivo Kircheis has a very interesting blog here: Paralleluniversum
What's interesting with fiction is the liberty you have, since you have to adapt the text to another target culture. So the translation becomes an act of creation. While most of the time the translator sticks to the original text, sometimes, with the author's or editor's authorization, he/she actually rewrites the text in his/her language. The latter happened with the German version of Donald Duck.
The English text written by Carl Barks is only there to "go with" the image and make the message more understandable. The German translator, Dr. Erika Fuchs enjoyed herself tremendously by introducing German classics into the Disney stories (Goethe, Schiller, Heine etc…), creating a more elaborate form of humor. Here are some examples you would have a hard time finding in the original text (copyright of the pictures and German texts belongs to Ehapa and the Walt Disney Company) :
I would translate into French as follows : "Marais impénétrables, marécages pestilentiels et bourbiers néfastes n'arrêteront pas le brave !
"
I would translate into French as follows
: "Éternelle injustice, abîme impénétrable ! Tout s'en va, tout se meurt !"
Here are a few other examples:
Onkel Dagobert: »Leichtfertig ist die Jugend mit dem Wort und bar jeden Sinnes für geschäftliche Dinge!«

(aus »Das Goldschiff«) 70K

I would translate into French as follows

:

"Jeunesse de peu de foi et insouciante des choses de la vie !"

»Choke! Puff! Sssss!« Donalds Auto streikt mal wieder.

(aus »Rat einmal!«) 38K

I would translate into French as follows

:

"Tseuheu tseuheu! Ssss! La voiture de Donald refuse une fois de plus le service"

"
I believe that comics, whether they have been translated or rewritten, require an excellent text (see Astérix and Obélix after Goscinny left us).
From Honolulu to Star Trek
What's also very interesting (and rare) is to translate from a non standard language, meaning a language that is still struggling to gain legitimacy, even though it is spoken by the majority of the population. That's the case with Creole in let's say Martinique or Guadeloupe and of Pidgin in Hawai'i. During my research in Hawaiian Literature, I stumbled upon Lee A. Tonouchi, a local writer who writes exclusively in Pidgin. This language has a great comic potential given the crazy use of metaphores, the wild transformations of English, following phonetics, the delirious mix of English, Japanese, Hawaiian, Portuguese etc… etc… (ask Lee Tonouchi, he's the expert !). The guy's even published a dictionary called
Da Kine Dictionary
. Here's one page to give you an idea :
So, as I said, I translated some Pidgin from Lee A Tonouchi's
da word
and Lois-Ann Yamanaka's
Wild Meat and the Bully Burgers
into French. But as you can easily see, you encounter difficulties you don't encounter in standard languages because they are……..standard (everybody more or less agreed on one or two meanings) ! So this is from Lee A Tonouchi's book
da word,
p.14-15 :
Bumbye. Simple word too. Hakum Laurie dunno'em? Nah, nah, no doubt. Laurie going be da one who lose out. Bumbye gotta be one word, I heard my Grandma use ' em sooo many times. "Grandma, wen you going take me Disneyland?" "Bumbye." So bumbye can mean later on, indefinite kine, possibly nevah. (…) So hakum dis friggin' dictionary no' mo da word, I tot as I saw one smile on Laurie's lips. Maybe I stay spelling 'em wrong ? (…) But nevah have none of da spellings. Bumbye wuzn't one word. (…) I stood, still looking at da dictionary in my palm, part of me wanting to memorize every single friggin' word in there, part of me wanting to friggin' throw it at Laurie's head before she left, just to hear wot kinda noise it would make.
The only solution in this case is of course to keep the word "bumbye". What helps here is that the word is explained. Otherwise you would have to use some "tricks", like using the original word + an explanation based on the context in your translation : "she said "bumbye" (never ? sometimes ? later ?)". Another option I don't like in fiction is the footnote : "she said "bumbye" * " (footnote : * "bumbye" is a very common word in pidgin and means according to the context, blah, blah). I prefer reading Lee A. Tonouchi or Lois-Ann Yamanaka in Pidgin or in English-Pidgin (if you know English, it's not that difficult, is it ?), in the same way I prefer reading German writers in German, but to translate them confronts you with a language, a culture, a history, a struggle and that's fascinating !
Alien Worlds
What makes Lee A Tonouchi,
one of my favorite Hawaïan writers,different from most other Hawaiian writers is his systematic and exclusive use of Pidgin in his writing. His vision of the cultural and social tomorrow of the island is nevertheless very similar to the one reflected in Lois-Ann Yamanaka
's work. In his collection of short stories, da word, utopia seems forever out of reach, as if the characters had come to terms with a complete assimilation to the American continent:
And den at da screen.Dey wen arrive. "We are Borg. You will be assimilated into the Borg kollective. Resistance is fu-tile ". All uncertain, I wen jus stare at da TV and I found my lips mountin' their catch phrase, word fo' word – like I had known 'um all along. (1)
In the worlwide successfull series Star Trek The Next Generation or Star Trek Voyager, the Borg are the worst ennemies of Earth. Their society reminds one of a society of bees: only the queen has a personality, since the "worker's" memory has been erased at the moment of their assimilation. The Borg assimilate all intelligent species they encouter. The famous line is the only one the Borg seem to know. This metaphore, Lee A Tonouchi borrowed from American science-fiction, shows that Hollywood directors dream for Hawaiians. As a consequence, his characters see themselves through the eyes of Star Trek or Star Wars ("distant galaxies") heroes, forgetting their islands. These morph into Australia (The Thorn Birds, TV, Daryl Duke, Warner Bros, 1983), Africa (Outbreak, feature film, Wolfgang Petersen, Warner Bros, 1995), South America (Indiana Jones : Raiders of the Lost Ark, feature film, Steven Spielberg, Paramount Pictures, 1981), or they appear to be in the middle of nowhere (Jurassic Parc 3, feature film, Joe Johnston, Amblin/Universal Pictures, 2001 or Fantasy Island, TV, series, Michael Dinner, Columbia Tristar Television, 1998) (2).
The part literature plays here is to allow the reader to see the present detached from the image of a tropical paradise or a luxury retreat for exhausted Hollywood stars:
Ofcourse, tourists and readers want something authentic to take back from a culture. In the fifties and sixties, you could get monkeypod and koa bowls, the "Made in Hawaii" burned into the bottom in a tiny elegant script. Now they're all made in the Philippines(except for a few high-end items carved from local rainforests). It begs the authenticity question : When does a souvenir become literature and not a sitcom ? (3)
This explains why Tonouchi focuses in his book on the power of the media to shape any place's image. If Hollywood succeeded in colonizing distant galaxies and in describing the customs of their inhabitants with elaborate detail, the studios will have no difficulty rewriting History or even the future of the archipelago. The Star Trek encyclopedias of extra-terrestrial species, the 24th century History books dealing with Terra or other planets, the collections of legends and trade rules of the Ferengis, the absurdly detailed blue prints of Romulan, Clingon or other villain's vessels, or even the lost recipes of Talax create a reality totally in the hands of the Creator.(4)
David Reddick
Most of you know him already, but I'd nevertheless (and it gives me a nice excuse to put one of his great pics on my blog) like to recommend David Reddick's art, in particular his Star Trek work, published in part on
"The Trek Life"
. That's one of my favorite! A Borg of course.
Funny, the pink slippers refer to "12 Monkeys" by Terry Gilliam (see video below)
---
(1)Tonouchi, Lee A. " my girlfriend's one star trek geek ", da word, Honolulu, Bamboo Ridge Press, 2001, p.87
(2) Pour une liste plus détaillée des séries TV et longs métrages tournés à Hawaii , consulter le site de la Kauai Film Commission :http://www.kauaifilm.com/based.html
(4) La bibliographie sur Star Trek comprend des dizaines de milliers d'ouvrages !
On citera à titre d'exemple :
- Behr, Ira Steven The Ferengi Rules of Acquisition, New York, Pocket Books, 1995
- Behr, Ira Steven & Wolfe, Robert Hewitt The Legends of the Ferengi, New York, Pocket Books, 1997.
- Okuda, Michael/Okuda, Denise/Drexler, Doug The Star Trek Encyclopedia: A Reference Guide to the Future, New York, Pocket Books, 1999
-Phillips, Ethan & Birnes,William J. Star Trek Cookbook,,New York, Pocket Books, 1999.
- Sternbach, Rick Star Trek: The Next Generation Technical Manual,New York, Pocket Books, 1991.


*
*
*
Une réponse à to "Translation of popular fiction"